Nick started working as a musician when he was sixteen, having left school. He performed both classical and folk music on the guitar, and wrote numerous pieces for various instruments. He went on to the Royal College of Music, where he studied both composition and guitar, winning both the Guitar Prize and the Cobbett Prize.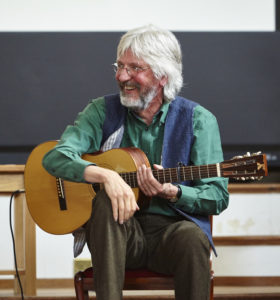 After college Nick wrote music for both the Contemporary Dance Theatre students, and for Ballet Rambert young performers. His composition 54321 for Ballet Rambert, choreographed by Lenny Westerdijk, earnt him rave reviews in the national press. During this period Nick was also working as a duo with tenor Neil Mackie, touring England and Scotland and premiering works on BBC3.
He then worked as a guitarist on the Live Music Now scheme for four years, playing in prisons, hospitals and schools all over the country, before concentrating on writing music for orchestra, forming his own amateur orchestra to try out his ideas. In 1984 his commission for The Oxford Concerto Orchestra, Lark Rise Concerto, became a favourite with the orchestra and is available to purchase on this site.
At this time, Nick also wrote a lot of guitar music and arrangements, which are available to download.
During the eighties, Nick played in a number of folk duos and ensembles, including duos with Chris Leslie and Dave Townsend – the duo album with Dave Portrait of a Concertina is available on Amazon. Also, around that time Nick released an album of Bach cello suites nos. 2&6 transcribed for guitar. You can hear some of this on Muziekweb.
Then in 1988 Nick's first break into film music came. Central Television wanted to make a documentary about the extending of the M40 round Oxford to Birmingham. The fact that Nick had already recorded a score on guitar for a film about Port Meadow, by local Oxford filmmakers Michael Borst and Tim Pears, meant that he had something to show, and the director wanted guitar. Job done! From there Nick went on to score many documentaries, mainly natural history, and by the mid to late nineties he was scoring major documentaries such as Land of the Tiger, and Andes to Amazon.
In 2000 Nick started working with director David Yates on TV dramas, scoring nearly all of David's films including State of Playand The Girl in the Cafe, and gathering three BAFTA nominations and a BAFTA award through their collaboration. David Yates was then given the job of directing Harry Potter and the Order of the Phoenix, and he brought Nick on board. They went on to work together on Harry Potter and the Half Blood Prince, for which Nick received the Richard Attenborough Classic FM award, and was nominated for a Grammy. Both these soundtracks are widely available.
Harry Potter and the Order of the Phoenix - Original Soundtrack
Harry Potter and the Half Blood Prince - Original Soundtrack
During this period Nick scored Prime Suspect the Final Act, for which he was awarded another BAFTA, and after the Potter films he went on to score two films for Disney Nature and a number of TV dramas and films, including Mo (with Julie Walters as the labour MP Mo Mowlem), Enid (with Helena Bonham-Carter as the author Enid Blyton), The Escape Artist (starring David Tennant), and Winter Thaw.
Nick has now returned to his roots in traditional music, and guitar-playing, and has made a number of recordings including: 6 Strings – a collection of traditional Irish tunes on solo guitar – which will be released by Angel Air Records in June, and Pete's Trees – an album of music for fiddle and guitar, featuring tunes written by himself and his wife Judith in traditional styles, together with traditional and contemporary folk tunes. Nick plays guitar, and Judith plays fiddle, and the album marks the history of their collaboration both as musicians and as a married couple. Also Nick has started working in duo with legendary guitarist, Gordon Giltrap.  Nick's solo guitar-playing and his collaboration with Irish singer Mick Henry, and Irish poet Bernard O'Donoghue can be seen on Youtube.
This was filmed by well know Irish director, Thaddeus O'Sullivan, and Nick collaborated with him on a film of Michael Gambon reading WB Yeates' poem – Song of the Wandering Aengus also on Youtube.
The context for Nick's composing took a slightly different direction when he wrote the music for Paralympic dressage champion Sophie Christiansen's freestyle performance at the Rio Olympics in 2016, and she gained yet another Gold Medal, which you can watch on YouTube. 
They plan to do more….