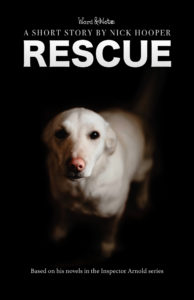 We are delighted to present Nick Hooper's short story, Rescue, free of charge. The new short story, set in the crime-solving world of Arnold Rackham, finally reveals the series of events which led to the detective's rather unexpected adoption of a lovely, but traumatised, labrador.
Rackham's now-elderly dog may have been by his side throughout the Inspector Arnold novels, but only now can you find out what really happened all those years ago!
Commenting on his latest release, Nick explains how he came to write Rescue:
"Well, in my Arnold Rackham novels there are backstories that are hinted at but never filled out. For instance: Arnold's childhood; Art student years; MET training; but the story of his dog's cruel early life is hinted at in The Occasional Gardener, and was bursting to be told. The dog is such a central character!"
Rescue is available from the Wordandnote shop completely free of charge. If you enjoy it and want to dive deeper into the world of Arnold Rackham, The Occasional Gardener and The Mirror in the Ice Cream Parlour, books one and two in the series, are available now in print and on Kindle.